Let's talk about floors - hardwood flooring and tiling
Can you install hardwood flooring on your own?
Generally speaking, you could do almost anything by yourself, even if you aren't particularly technically minded. There are online tutorials, articles, hacks and what not to help you with perfect hardwood floor installation. Many online resources claim that it's easy and rewarding process. Well, sorry I don't want to disappoint you but it's not. All of that nice vlog entries and pics show experts not an average layperson at work. So don't be fooled and take a look around to find professional flooring contractors in Des Plaines IL or another area near you. Hiring people well versed in floor installation will pay for itself and allow you to avoid nerves and (costly) mistakes. Are you still convinced that laying new floor is a piece of cake and you don't need anybody's help? Then think again. Before installation of a new floor, you have to remove the old one. Depending on the previous material used for flooring, it can turn into very arduous task. You can say that a carpet isn't difficult to get rid of but how about tiles for example. They require much more effort to remove. Not only that, you have to smooth underlying surface before laying panels. And of course, there is the question of a construction waste disposal. You won't need to worry about that part of the undertaking when hiring flooring contractors as they deal with it as well. Another benefit of choosing professionals is floor lifespan. Yes, hardwood floors can take a lot of use and abuse and look great for many years. However, there is one caveat – they have to be installed correctly. If you do something wrong, you will have to replace supposedly durable panels after just few years of use or worse yet, hire an expert to fix those mistakes. There is as well a question of timing. Maybe you aren't in a hurry and you don't have any particular due date for you hardwood floor installation but I'm sure you don't want to change your home in a building site for weeks on end. That's where professional flooring contractors come again. They not only help you to get resistant, highly aesthetic floors but also do it efficiently. Laying floors for many years, they have gained plenty of experience and practical knowledge so you may rest assured that you obtain best results and quickly. So, if you consider hardwood floor installation, don't apply do it yourself approach but hire specialists.
The advantages of mirage flooring
One of the requirements for beautiful hardwood floor is professional installation. But even the best flooring contractors won't be able to do much good if you decide on inferior flooring materials. Of course, there are suppliers aplenty so finding superior product isn't so much a problem as choosing between all of the available options. To narrow down those choices a bit I suggest you consider Chicago Mirage flooring. Is there anything special about that particular brand o floors? I say, definitely yes. Actually there are several "somethings" that decide of Mirage floors superiority.
Let's start with high quality of their products. No matter which of the particular design or type of wood you decide on, you may rest assured that every batch will be uniform in its stability and durability. Ok, everybody can claim that he offers the best possible product and you won't know otherwise until you buy. But here the company unequivocally proved it by being awarded by professionals and industry 32 times for the excellent quality of its hardwood floors.
What else, except of quality, does make Mirage floors great choice? I would say warranty. Yeah, I know that products and services these days come with it. Here you have actually three different types depending on the floor application. One of them regards commercial, so at this point it want be of much interest to you but the rest may prove quite useful. First, comes a structural lifetime limited warranty and covers all of Mirage floors. It doesn't mean of course your lifetime but that of a product as long as you own your house. Second is 35-years warranty against finish wear (for residential applications). This means that if you comply with terms and conditions of your warranty, you probably won't have to bother with replacing your floor ever again.
When we are at the longevity, there is another benefit of buying Mirage floors, namely finishes. They are extremely durable and flexible, which helps to preserve original look of your floors for many years. It is easy as well to keep them clean. However, there are more benefits. How about health and safety? Yeah, I know that it sounds like something from a manufacturing plant. But what I mean is that they are hypoallergenic and safe for the environment. Last but not least, they impart your floors with that beautiful satin look.
Speaking of look… When you shop for flooring supplies in Chicago, you have particular décor of your house in mind. That's why not any and every type of material will do for your undertaking. When you shop for Mirage floors, you can choose from host of available options to find a perfect match for your needs and tastes. Let's start with the type of wood. They have many of them and each comes with unique characteristics. One of the first you think of is probably color. If you opt for natural look of hardwood then it's obviously true. But you don't have to settle for "natural" and can choose tinted wood instead. What actually sets different types of wood apart is their grain. Depending on the required effect, you may decide on maple for its clean grain that results in soft texture, cherry for coarser look or anything in-between. Combining factors like color, grain pattern and panel size and shape from wide range of Mirage products, you can easily design your dreamed floor.
Last but not least is sustainability of Mirage flooring. Ok, I know that environmental friendliness doesn't automatically translate into quality and durability of the products. These are the most interesting factors from the client's standpoint. Nevertheless, we've already established that the company offers superb products with vast array of options. So now, it's time to concentrate on impact of the single consumer's choice on the environment and manufacturer's practices. It seems like a small, unimportant decision but many of those accumulate to real life outcomes. Choosing hardwood floors from the companies like Mirage, who source their raw materials in a responsible way is important when it comes to maintaining healthy environment.
Summing up – deciding on Mirage floors, you may rest assured that you receive highest quality products, which come with warranties on both wood and finish applied. You can choose from wide range of available options to find perfect match for your home. But that's not everything. Your floors will not only look great but will be sourced and manufactured in a sustainable, environmentally friendly way.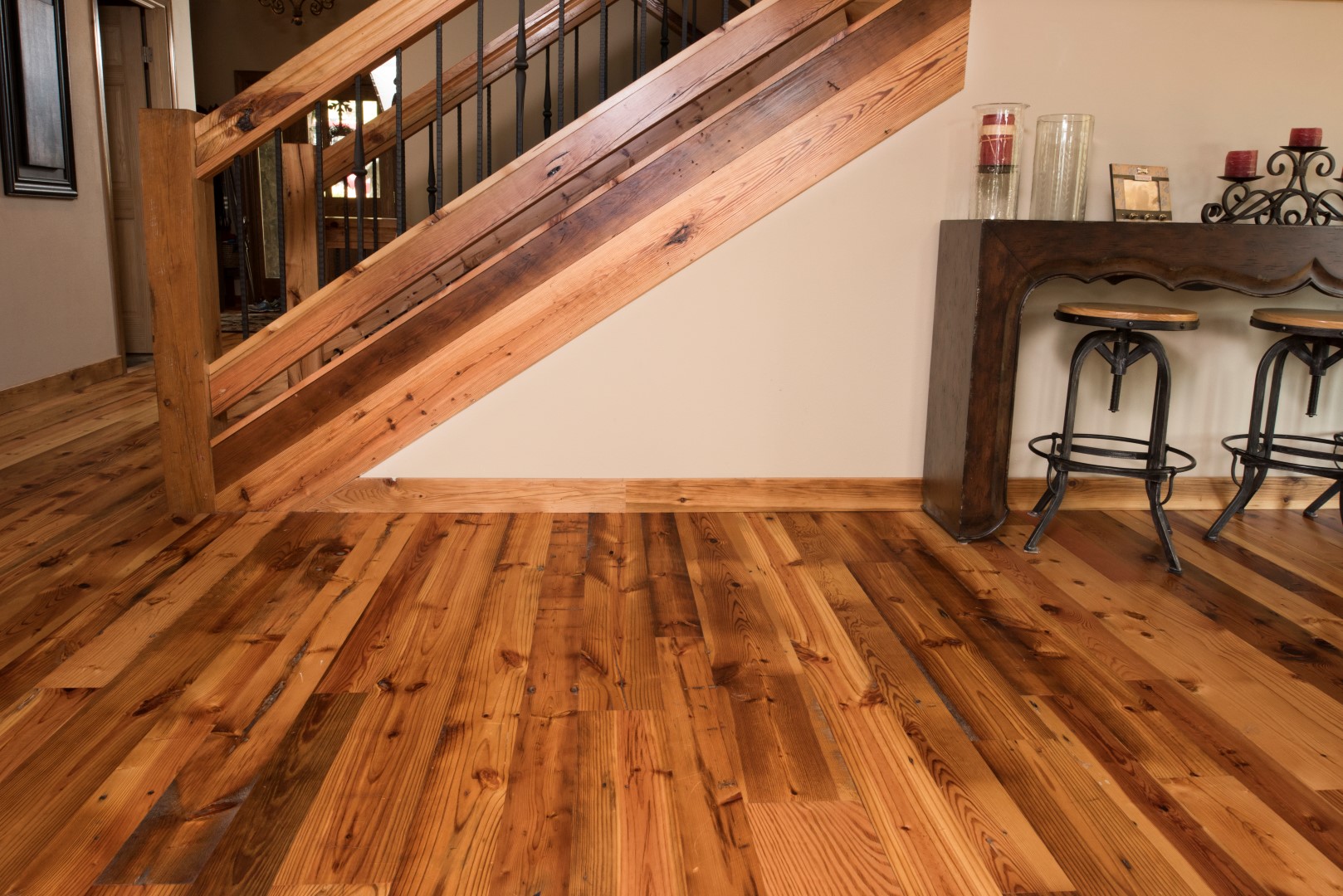 What flooring type is best for bathroom?
While installing floors at your home, you cannot overlook a bathroom. It's a bit tricky area with all that moisture and high temperature, so flooring has to able to withstand those conditions. This means that resilience, low porosity and ease of maintenance will be at premium. There is actually a group of products, which naturally fulfils that requirement – mainly tiles. As any of tile installers in Palatine or elsewhere will happily tell you, "tile" is a very broad term that encompasses wide range of materials and styles. You can choose from natural stone, ceramic or porcelain (type of ceramic but with slightly different qualities). There are glass tiles as well which sound like a perfect choice for your bathroom with their next to none absorption rate and vivid colors but unfortunately they are too brittle to get (literally) underfoot. Let's save them for walls, backsplashes or decorative mosaics and get back to materials that are more appropriate for flooring. Each of them has its own set of benefits and drawbacks but you may rest assured that you find something that will meet your requirements. Take stone tiles for starters. They go well with both traditional and modern décor of you bathroom and offer beautiful patterns, unique for each tile. On top of that, they are a very durable. Keep in mind though that not every type of stone will be appropriate for use in a bathroom. So before buying, ask tile contractors for the best match. But stone, however beautiful, may come out quite pricy. If a budget you have available is a concern, you can choose from either ceramic or porcelain tiles. The main differences between the two is lower absorption rate of porcelain and (most often than not) higher price than its counterpart. It's more brittle as well, so if your bathroom characterizes with "heavy traffic" then ceramic may prove a better option. Ok, so both materials are durable and come in a budget friendly option. But those aren't the only features that make them perfect for flooring. They are available in almost infinite choice of styles and colors with several shapes and sizes thrown into the mix. Whether you strive for classic, vintage look of your bathroom or something more contemporary, you can easily find matching tiles. What's more, you don't have to settle on layout of homogenous tiles or even a simple pattern. With the use of tesserae, that is small (up to 2 by 2 inch size), square or octagonal tiles, you can create convoluted mosaic designs or even whole pictures. Well, that option isn't particularly budget friendly but results are well worth time and money spent.
Paraphrasing Frank Sinatra's song, you can say that bathroom and tiles are like horse and carriage and you cannot have one without the other. Umm, actually I wouldn't bet on that. Definitely, tiles fulfil requirements of durability and moisture resistance but you aren't limited to them only. With development of wood finishes that give excellent protection from humidity, you can actually treat a bathroom like any other room at your home. This means that without further delay you can opt for hardwood floors. There are several reasons why you may want to decide on hardwood over tiles. One of them is having everything done in one go without separately installing tiles and hardwood flooring in Arlington Heights or wherever it is you live. That way you not only save yourself additional hassle but also can enjoy uniform décor all over your home. Wood as well brings more warmth (both literally and figuratively) to your bathroom. If you don't gravitate towards underfloor heating system, then wood be much more pleasant for your bare feet than either stone or ceramic, particularly on a chilly winter morning. Hardwood floors are versatile as well when it comes to choice of style, size and shape of panels, colors and grain pattern so you don't have to worry about esthetics of your bathroom. Actually, there is one area where tiles have to yield to hardwood. That is - widely considered repairs. With tiles, it's very hard to introduce even minor changes to the existing pattern, so cracked or broken tile will most often than stay that way until you decide on through bathroom remodeling. Hardwood on the other hand allows for much more flexibility. Damaged panel or panels can be almost effortlessly replaced for new ones. Scratches, dents or worn finish are easily remediated with hardwood floor refinishing. Flooring contractors simply sand off damaged areas or remnants of existing finish, smooth the surface and apply new layer of finish that will protect you bathroom floor from splashed water. And voila, with an afternoon of work your bathroom floor will look brand new. You defiantly wouldn't be able to repeat such a trick with tiles. Whether you decide on hardwood or tiles is completely up to you. Using wood in a bathroom at first glimpse may seem a bit counterintuitive but with dawn of modern finishes is a quite viable option.